Latest Kitchen Designs To Make Your Kitchen Chic and Functional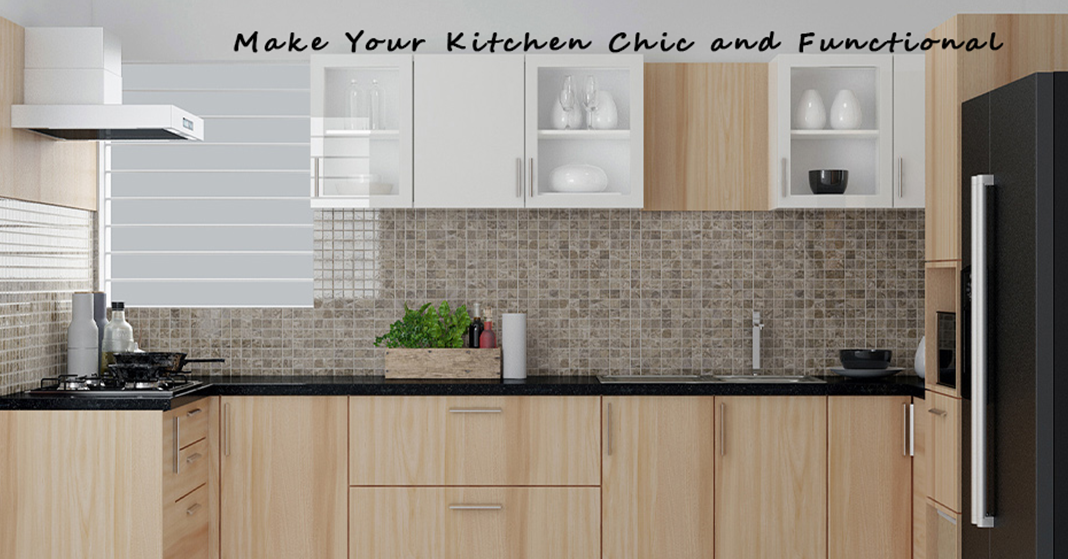 People will never make any compromise when it comes to designing kitchen space. From color to the furniture, from appliances to wooden range hoods, everything needs sheer attention and detailing to make it appealing and expressive.
The trends of kitchen designs have undergone many changes or modifications, but some basic fundamental elements remained intact. Like, white or bright kitchens are still the favorite.
The basic appliances found most commonly in kitchens are,
Microwave Oven
Fridge
Wooden Range Hood
Gas Stove
Modular Kitchen
Though these appliances have also undergone many modifications and customization, in terms of design, color combination, and technology.
Let us discuss some contemporary latest trends of 2021 for kitchen designs. These latest ideas and designs for the kitchen area help you out for designing the kitchen with fresh ideas and make it modish.
Nowadays people are adding a natural element in their modern design ideas for sustainable items, making them look unique. The main focus is on the combination of functionality, personality, and technology.
Kitchen Countertop
For the countertop, you can select quartz if you are looking for affordable and low maintaining material.
The marble is an all-time favorite material that bestows elegance, class, and chic vibes to the kitchen.
Using vintage plate racks to make countertop more attractive is a new trend these days.
Smart Storage Space
Smart storage spaces are in demand, designers and home decor service providers are emphasizing the hidden storage space to give a mess-free kitchen space where you can enjoy the cooking process.
Besides having a clean kitchen space, storage spaces are important to be handy and in reach of your hands where you don't need to waste time going from here to there.
There is a rise in demand for large butler-type units that seems like the traditional idea but have been modernized to give you a smart and hassle-free kitchen space.
Wooden Range Hoods
If someone asks you how you can make your kitchen more functional and make it look modish and classy, a simple answer: Wooden Range Hoods.
Most of the kitchens are getting installed wooden range hoods to make the kitchen pollution-free and look voguish.
Available in different designs, sizes, and colors wooden range hood is a must to have kitchen accessory to make the cooking process pleasing and filling kitchen space with pure air.
Layout
Nowadays, people are now emphasizing the layout of the kitchen, Where to place what? For example, people opt for a kitchen layout design where everything is handy. They will create a layout where they can reach storage space, toaster, microwave, blender, or kettle easily, for which they don't need to move much.
Along with the comfort, the layout of the kitchen space is crucial as it affects the look of the kitchen as well as the functionality of the kitchen.
For instance, if the layout is designed properly and if you install a wooden range hood with a proper installation suitable to the layout of the kitchen it will make the space more appealing.
Wood Is Forever
People are resorting to wooden furniture and using the natural wood color to embellish the kitchen space.
Wooden Range Hoods, Wooden Countertop, Wooden Table-chair, Wooden Cabinet, and even wooden flooring look alike tiles are used by designers and customers to make it look rustic.
Vibrant Colors
Days are gone when people used to keep the kitchen simple and boring. Earlier, people used to keep the continuity of the same color in tiles, walls, furniture, and cabinets.
Now, people are making the kitchen more happening and vibrant by using a vibrant color combination, using different bright colors with dark shaded colors to break the uniformity and to emboss small elements.
Paintings and removable wallpapers are making their way into the kitchen space making it expressive and attractive.
Kitchen Islands
To ensure family members can cook, dine and spend time together even while cooking they can have an eye to eye conversation. The desire for kitchen islands has increased.
Reports of the survey suggest a majority of the population are reserving space for kitchen island.
The reason behind the rise in demand is as more of our kitchen is utilized as
Work spaces, classrooms, dinner tables, bars, and food preparation areas.
Sometimes all at the same time.
Technologically Advanced Kitchen
Kitchens are also becoming smart with technologically advanced appliances. People are opting for kitchen appliances that are Wi-Fi enabled and can be controlled by phone.
Ovens having a technical feature of moisture injection are becoming popular to keep the freshness of food intact.
Smart lighting for the kitchen is also in demand that can be modified as per your mood.