Frequently Asked Questions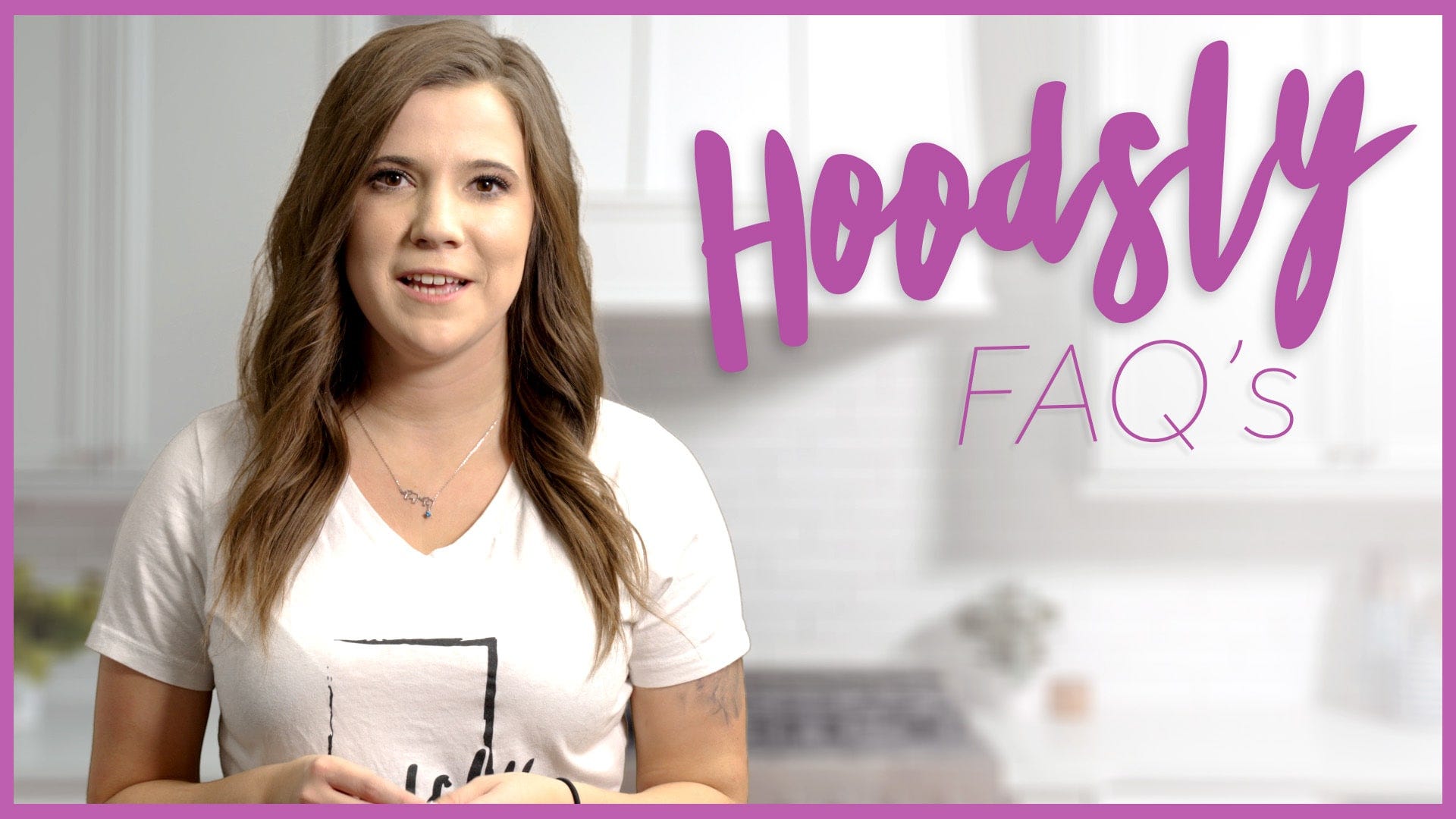 Welcome to our Learning Center! Select any video on the left to learn more about our products.
We know you're excited to receive your Hoodsly wood hood. The great news is you won't have to wait long at all. It takes us 20 to 25 business days to build, finish, and ship your hood. It takes about 2-6 business days for your hood to be delivered to you. If you need it sooner, take advantage of our rush manufacturing option, which allows us to have your hood ready to ship in 10 to 15 business days. In a crunch? Need it even quicker? Check out our warehouse sale or quick ship option. These are sure to ship in 2 to 6 business days.
Our hoods are made out of cabinet grade plywood with a white maple veneer.
We recommend 30″-36″ between your cooktop and the bottom of the hood. Typically, if you have 8′ ceilings we would recommend a 30″ tall hood. With 9′ ceilings we recommend a 36″ tall hood and with 10′ ceilings, we recommend a 48″ tall hood.
We use 3/4″ thick trim on our hoods. To determine total exterior width you will add 1.5″ to the size hood you are interested in. For example, for a 30″ wide hood, the total exterior width will be 31.5″.
To determine if your insert will fit you must look at the interior dimensions of the hood. We use 3/4″ thick material for the construction of the hoods. To determine the interior width you would look at the size hood you are interested in and subtract 1.5″. For example, for a 48″ hood (please note total exterior width for this option is 49.5″) the interior width would be 46.5″ wide. Then you must determine the interior depth. We have three options 18″, 20.5″ or 22.5″ inside opening. Make sure to purchase the option that will best accommodate your insert. You must also look at height. The apron of all of our hoods is 8-1/4″ tall. If your insert is taller than this we would recommend reaching out to us directly so we can determine if it will work.
You can visit this page to see if your vent will fit our hoods: http://hoodsly.com/will-my-vent-work/
Yes, every hood is trimmable by up to 6″. You can do this yourself, or we are happy to cut it down before we ship it for an additional $125. Please note that you cannot cut the hoods by more than 6″ as it will threaten the structural integrity of the hoods.
We can custom match paint to your specific color for an additional fee of $850. In order to do this, we require that you mail a physical sample of the color to our facility to be matched. Please write your name or order number on the back of the sample and complete the PDF form that will be sent to you once your order is complete.
We recommend allowing sufficient time between receiving your hood and scheduling your installation to ensure all products are received, damage free, and ready for installation. While we do our best to mitigate damage and shipping delays, these do happen and may have an impact on your installation schedule. We are not responsible for fees charged by your contractor for missed installation dates or trip charges.
When a replacement is necessary, the new hood will go into production the next business day. The lead time for the replacement hood is 10 business days.
Yes, on our product pages, you will see the option to remove side trim or all trim. In this case, we still provide the trim precut and ready to install. Please note that our hoods are a two-piece construction to allow for easy installation. Because of this, we highly recommend installing the trim as there will be a seam between where the chimney and the apron of the hood meet.